As The World of Banksy, we created the world's first concept of exhibiting Banksy's artworks. With our partner companies all around the world, from France, Italy, Czech Republic, Germany and England, we are proudly collaborating with several collectors of Banksy's originals as well as with the top graffiti artists.
Our exhibitions attracted hundreds of thousands of visitors to the most renowned galleries all across Europe including Manes Gallery in Prague, Espace Lafayette-Drouot Art Gallery in Paris, Espacio Trafalgar Art Gallery in Barcelona, Teatro Nuovo in Milan, Bikini in Berlin and so on…
The World of Banksy focuses on bringing the artist's message closer to a wider audience without a need to travel. Especially in the cities where his art has not appeared yet, art lovers all around Europe can enjoy Banksy's street art all at one place and contemplate his ideas disputing many political themes such as war, imperialism, peace, individualism, greed, poverty, capitalism, consumerism and hypocrisy.
In the spirit of Banksy's famously known claim that "Copyright is for losers", our exhibitions are proudly and openly "100% unauthorized" and have been organised entirely without his involvement.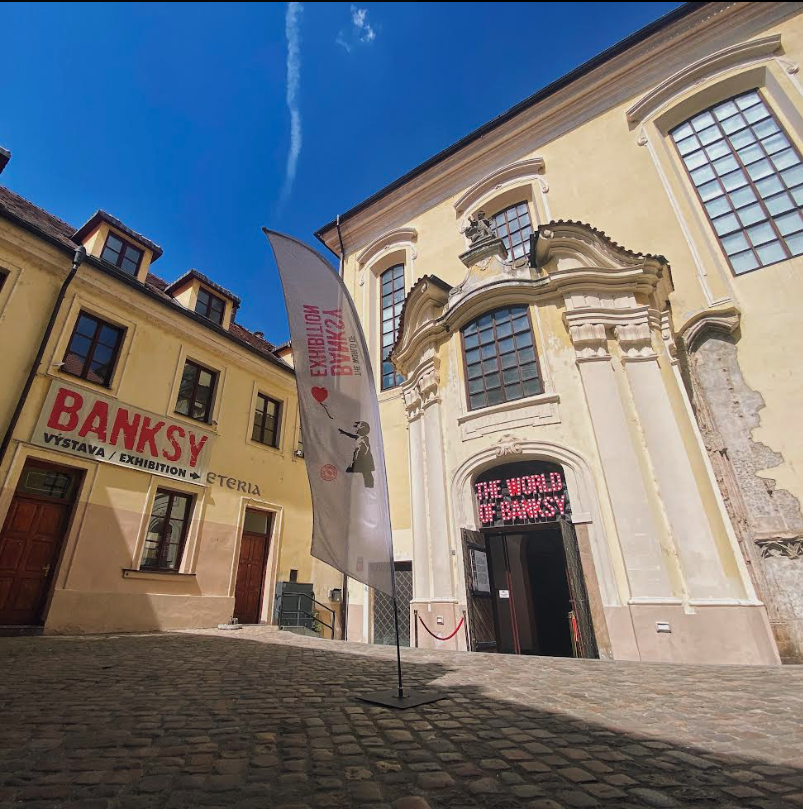 ABOUT THE LOCATION (WHAT A PLACE!)

Just like Banksy usually presents his art at unusual places, our exhibition also takes place at an unusual location – a church right in the heart of Prague. Czech priest and church reformer Jan Hus used to preach here in the 15th century. The church and adjacent monastery were later disestablished during the reforms of Emperor Joseph II in the 18th century. In its most recent history, the church building served as a warehouse and a nightclub. Now, after centuries, it finally hosts another reformer – Banksy!
iBanksy: The World of Banksy's brand new concept, iBANKSY, represents an edgier part of the show by bringing Banksy's satirical and subversive street art to life in intelligent-video format! For the first time in the world, a Banksy exhibition includes the largest collection of video animations of Banksy's artworks.