Skrze "World of Banksy" jsme vytvořili první koncept exibicí Banksyho děl na světě. Spolu s našimi partnery z Francie, Itálie, České republiky, Německa a Anglie hrdě spolupracujeme i s několika sběrateli Banksyho originálních děl, a také s několika předními graffiti umělci.
Naše výstavy již přilákaly statisíce návštěvníků do nejznámějších galerií po celé Evropě, včetně Manesovy galerie v Praze, Espace Lafayette-Drouot Art Gallery v Paříži, Espacio Trafalgar Art Gallery v Barceloně, Teatro Nuovo v Milánu, Bikini v Berlíně a mnoho dalších.
"The World of Banksy" se zaměřuje na zprostředkování umělcových myšlenek širšímu publiku bez nutnosti cestovat. Zejména ve městech, kde se jeho díla prozatím neobjevila, si jeho tvorbu mohou vychutnat milovníci umění celého světa a rozjímat tak o jeho myšlenkách zpochybňujících mnoho politických témat, jako jsou válka, imperializmus, mír, individualizmus, chamtivost, chudoba, kapitalizmus, konzum a pokrytectví.
V duchu Banksyho známého výroku "autorská práva jsou pro slabochy", naše výstavy jsou otevřeně zcela neautorizované a byly kompletně zorganizovány bez umělcovy účasti.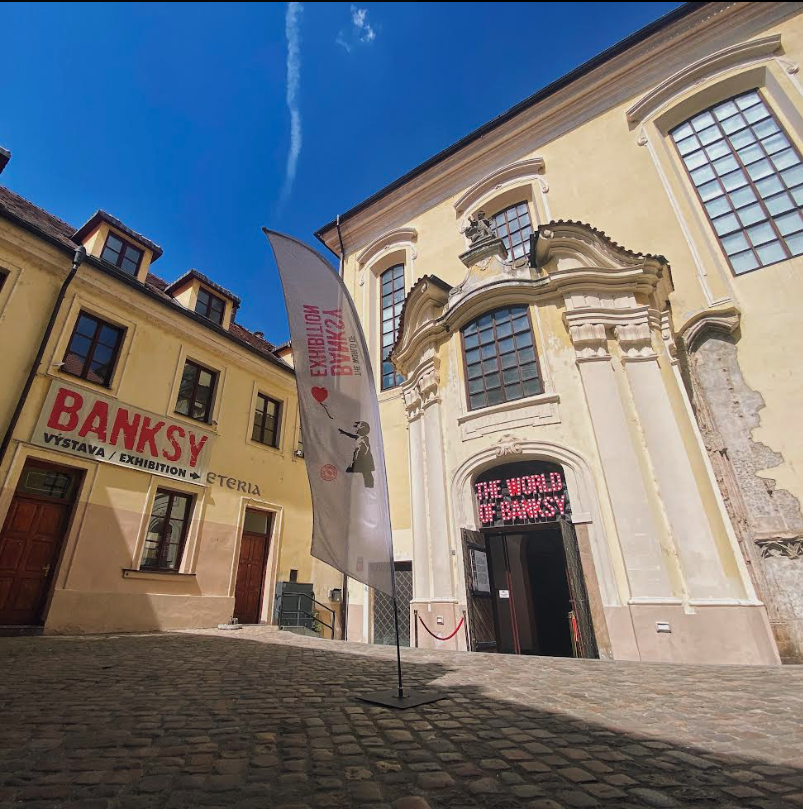 O LOKALITĚ (JAKÉ TO MÍSTO!)
Stejně jako Banksy prezentuje svoje díla obvykle na neobvyklých místech, také naše výstava se bude konat ve velice neobvyklé lokalitě – kostelu přímo v srdci Prahy. V 15.století zde kázal český kněz a reformátor Jan Hus. Kostel a přilehlý klášter byly později zrušeny během reforem v 18.století císařem Josefem II. V moderní době sloužila budova kostela jako skladiště a noční klub. Nyní, o staletí později, hostí kostel konečně dalšího reformátora – Banksyho!
iBanksy, zcela nová, ostřejší forma konceptu "The World of Banksy" probouzí k životu Banksyho satirické a podvratné pouliční umění pomocí inteligentního video formátu! Zcela poprvé zahrnuje Banksyho exibice rozsáhlou kolekci video animací.